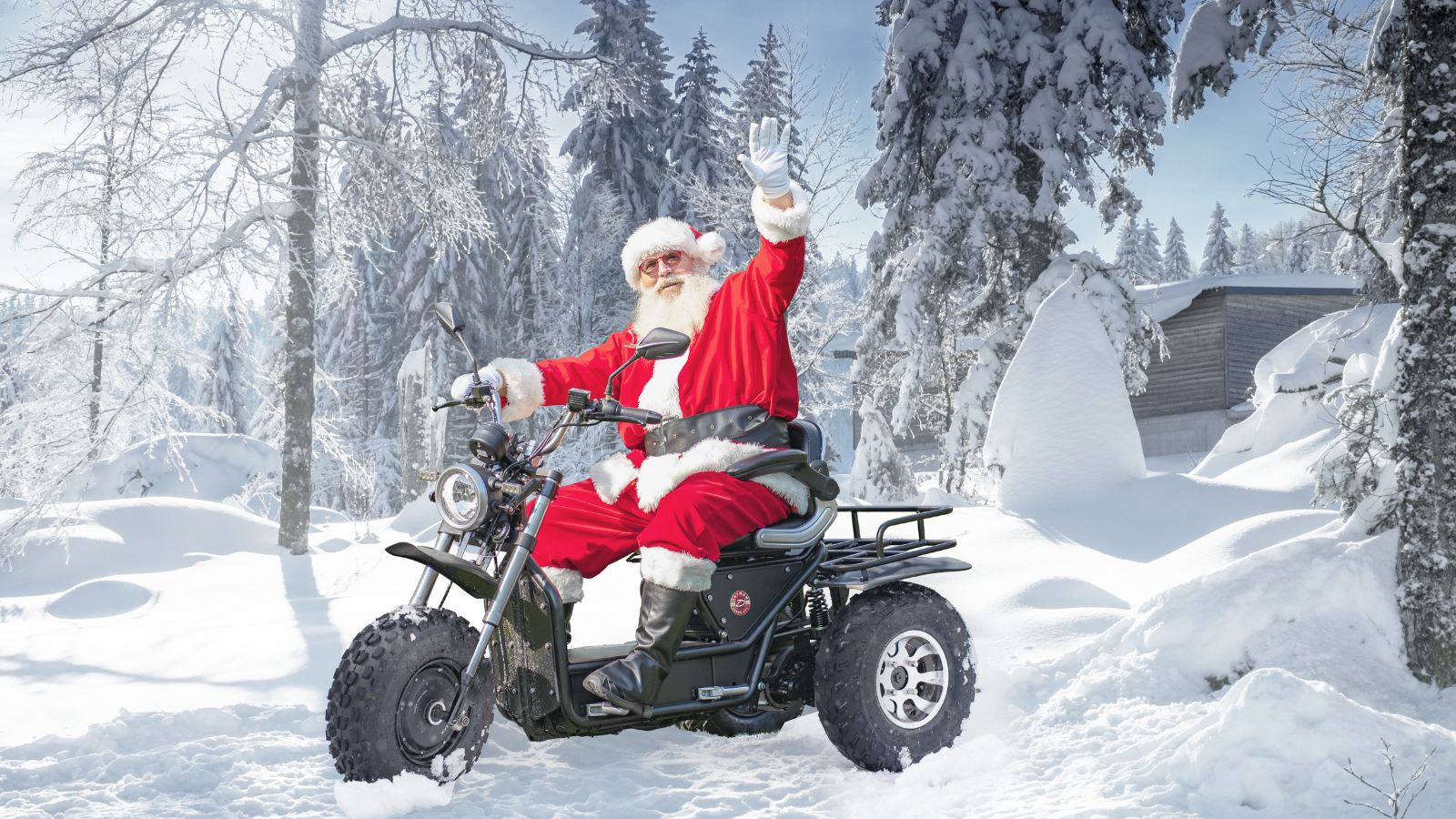 HoliDaymak Gift Guide 2020: Our Top Picks This Season
| Marketing Team
The holidays are just around the corner. Regardless of what puts you in the spirit of the season if you are in the market to give the gift of eco-friendly transportation this year, we've put together a list of some of the hot picks and trending buys for Daymak 2020.


HoliDaymak Gift Guide 2020: Trending Toys For Kids

For the young riders in your life, we have some great options! Like our Lamborghini. You can control the speed and direction with the remote control function, or give your little cruiser the freedom to explore at their own pace, but don't worry, this sweet compact machine only goes up to 7 km/h- which means your little one won't be generating any speeding tickets just yet.

It's filled with features that kids and parents alike will be wowed by- including swing open doors, MP3 connectivity and LED headlights. Oh, and fully functional seatbelts- because you're never too young to be safe!

And it has two seats, so this can can accommodate a sibling or friend.


For the car loving kids in your life, we have something really special. The Bentley is our electric take on a classically beautiful car. Don't worry, if your little tike is too small to drive alone, you can have total control over the speed and direction with the remote control. And if your little one is a bit older, they can take the wheel on their own- but that's not a problem, as the Bentley only goes up to 5 km/h.

It comes with lots of the aesthetic features of a car for "grown-ups" which are sure to impress the little rider in your life. These include the Dual seats, MP3 connectivity and real working LED headlights, and a key-start ignition.

Perfect for your little one to get their first taste of electric freedom.


Our BMW x6m is another 2 seater option perfect for the young rider in your world. As with our other models, you get full control over the speed and direction of this car, until your little rider is ready to handle the wheel on their own, but even then, with a limited speed capacity of 5 km/h, you'll be able to catch them if they show a robust love of speed. This model comes with electric brakes,  up to 1.5 hours of run time, MP3 connectivity,
LED headlights and operable doors, so your little one can get the look and feel of a real car.


Electric, and charged full of fun, we are putting these kid-friendly electric-cars at the top of our list this holiday season. 
Seasonally Spectacular, But What About Some Options For Bigger Humans On The "Nice" List? 
We hear you. Kids are usually high up on the Holiday list, but what about those who have outgrown mini cars? We've got some special products that are new this year that will be perfect for under your tree. 
Not everyone is shopping for little ones this season however. So if you are looking for items for a wider age range, we've got lots in store for you.

In fact we just launched our EVinabox Series, which will certainly have something for almost anyone on your nice list.

The EVinabox Series comes with three products: Our Ebike in a box, our Escooter in a box, and our Mobility in a box.

They are exactly what they sound like! Fully functional and ready-to-ride right out of the box with just a few easy steps. Every product in this line comes complete without the need for any heavy equipment, complicated instructions or additional professional assembly.

This lineup comes with all the unique features that Daymak fans are used to, including super-fast charge times and extendable range, meaning that the Ebike can travel farther if you are utilizing the pedal assist.

Our EVinabox line is the ultimate multifaceted gift for anyone in the family, as it's a great option for commuting students, teens and adults of almost any age. For this reason we are putting it right at the top of our Young Adult and Adult Gift Guide for 2020.

Still want to hear more about our EVinabox series? We have an entire video series already on our channel for you to check out! 

Great! But I'm Looking For Gifts For Someone A Little Older. 


Hey, no problem. We've got you covered! Buying for someone whose already had more than a handful of winter gift exchanges under their belt? Check out these options!
Of course, with the holiday season comes colder weather, and that means many will be worrying about their commutes. If you or someone you love is looking for a safe, convenient commuting option this winter, why not consider the Boomerbuggy X, one of our premium mobility scooters.

That's right- this unit here is a Mobility Scooter. It doesn't feel like one. Literally. It's fully enclosed and comes with air conditioning and heating, so you are safe in all weather conditions. This vehicle is also a perfect option for short trips and light errands, as it comes with a generous amount of rear storage. As well, you can drive the BoomerBuggy X without license or insurance. We have three models to choose from, including the Boomerbuggy X the Boomerbuggy Xi and the Boomerbuggy XS, which sport different ranges, and battery types- so rest assured that you will be able to find an option that is perfect for you.
It might not fit in santa's sleigh, but it's a great gift option for the person in your life looking for safe, comfortable and reliable solutions to micro-mobility. That's why it made our list into Daymak's 2020 gift guide! 
It's never too early to start thinking about bringing some holiday cheer into your world. With our Holiday gift guide, we hope we've provided a few fun and functional options for you and your family to find under your tree.
If you want to hear more about our products, you can check us out on the web or find us on our Youtube channel!
Happy Holidays from all of us here at EbikeUniverse.